DXCC on the 6m band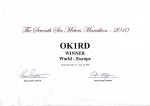 My 6m band operation goal is to reach 200 DXCC countries on this band without F2 propagation.
Then I will put and end to my activity on one.
My target achieved on 07/01/2015 !!!! 200 DXCC countries in the log
 
updated on :07–12–2017
score: DXCC all 6m band: 231 countries
I decided to put and end to my activity on the 6m band the EME operation included. I ended my operations on the bands due to my age.
It was nice several years which I spent on 6m band on EME mainly
My DXCC 6m band score approved by the ARRL is 231 DXCC countries. My last confirmed DXCC country was:
VK9XGJ – EME in 2017 years as 231st country.
Back on 6m band in 2021 ( type of propagation / a new DXCC country )
 
HC2FG – ES/232,  HK3PJ – ES/233, 5T5PA – ES/234,